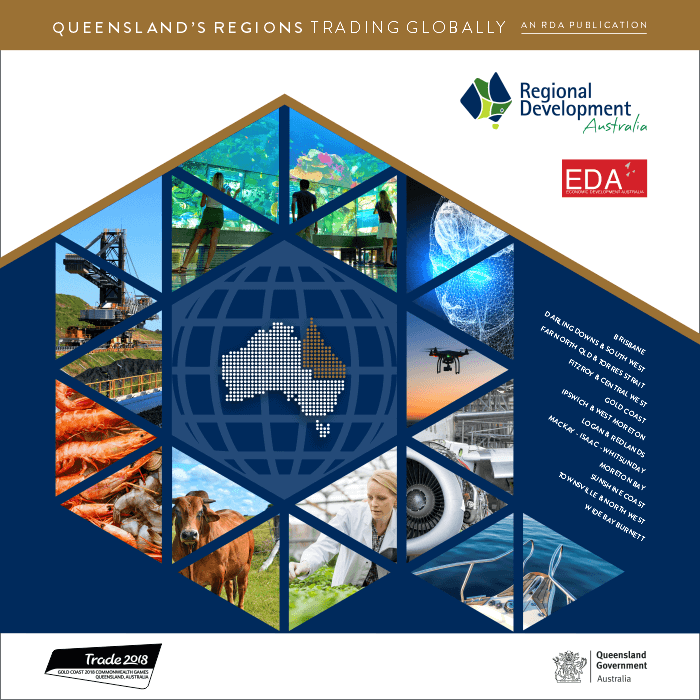 Queensland RDAs have collaborated to develop a special Queensland's Regions Trading Globally publication which features highlights of each of the 12 RDA regions of Queensland, around their key or emerging export sectors with growth potential, and innovative industries and opportunities for investment.
Coordinated by RDA Brisbane, the 32 page prospectus was developed as part of the Commonwealth Games 2018 Trade & Investment Program to showcase the diversity and strength of Queensland's regions to a global audience, and it is a resource which can be utilised long after the Games are over.
It includes forewords from the Premier of Queensland, the Hon Annastacia Palaszczuk MP, and Federal Minister for Regional Development, Territories and Local Government, the Hon Dr John McVeigh MP. It also contains details of the Queensland Trade Collaboration Portal which presents a showcase of leading Queensland exporters, along with information on the roles of agencies in the trade and investment space, namely Trade and Investment Queensland (TIQ) and Austrade.
The prospectus was uploaded onto 300 USBs for the international trade delegates visiting the Gold Coast for the Commonwealth Games, printed copies were given to the 100+ delegates attending the Queensland and Commonwealth Collaboration and Showcase event on the Gold Coast on 12 April 2018, and the Queensland RDAs also have copies.
Presentations
Some of the presentations from the Trade2018 event on 12 April are available here for download:
Role of Economic Development Australia
- Jacqueline Brinkman, Executive Officer, EDA
Regional Development Australia's role in Regional Trade and Investment
- Liz Bennett, Director and RDA Coordinator, Department of Infrastructure, Regional Development and Cities
Queensland: A smart investment decision
- Warwick Agnew, Deputy Under Treasurer, Queensland Treasury
Queensland Trade Collaboration Portal
- John Sheridan