Bionics Queensland: Unlocking commercial opportunities
Bionics Queensland is a Brisbane-based cluster working to advance research and commercial endeavours across the broad spectrum of human bionics. The spectrum of disciplines driving bionics breakthroughs is broad, with inputs from neuroscience, the brain-computer interface, bio-fabrication, robotics and materials engineering. Bionics Queensland works at the intersections of these diverse fields by acting as the conduit to identify synergies and unlock commercial opportunities.
An ambitious, long-term vision
An ambitious, long-term vision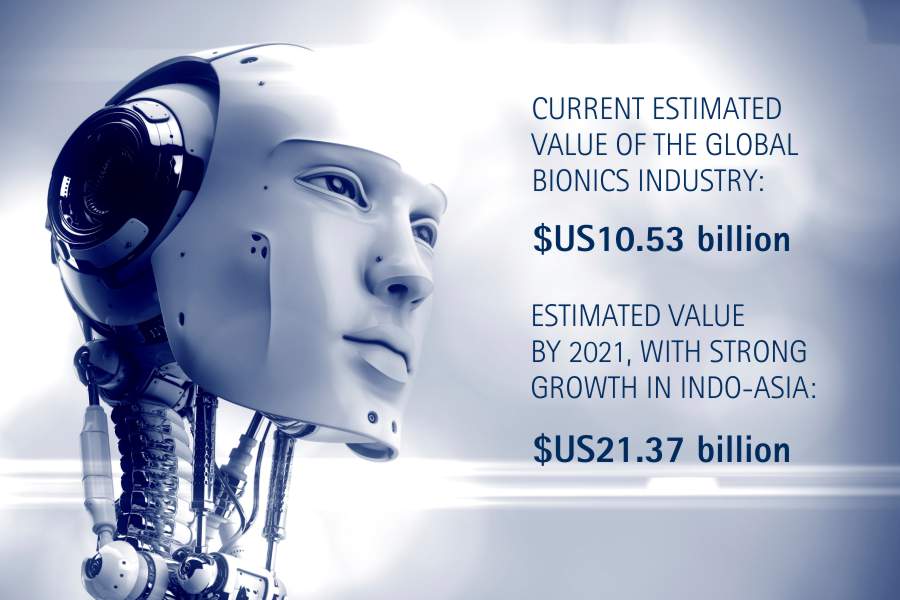 Bionics Queensland, incorporated in 2018, has an ambitious long-term vision, and an expert STEM board of Directors representing Brisbane's fast-growing competitive bionics sectors.
With a strong suite of partnerships and a measured and realistic strategy to deliver results for the Greater Brisbane economy, the expectation is to increase global market share over the next decade. With a current estimated value of $US10.53 billion globally, the bionics market is expected to reach $US21.37 billion by 2021 with especially high growth in the Indo-Asia Pacific regions.
Brisbane is very well-placed to capture market growth and this alliance hopes to expand across Australia to deliver a much wider suite of new and enhanced bionics solutions, opportunities for commercialisation and advocating collectively for government and private sector funds, capitalising on shared and distinctive scientific and commercial expertise.
Driven by the fundamental desire to deliver bionics solutions more quickly to those with disabilities, Bionics Queensland has established a common network and platform for bionics scientists, engineers, financiers, government and entrepreneurs to share ideas, unlock opportunities, tackle the challenges, and deliver devices and treatments faster.
A new action plan for bionics industry development in Queensland will underpin new and emerging medtech devices, artificial organs and limbs, medical wearables and customised healthcare services.
Exponential technologies such as machine learning, artificial and augmented reality, quantum computing and bio-fabrication will converge with human learning, advanced engineering, neuroscience, brain mapping and robotics to define and integrate the future of bionics healthcare.
Established by Dr Dimity Dornan AO, Bionics Queensland will take scientific, industrial, humanitarian and collaborative success of bionics devices to new heights.
Human Bionics Interface Alliance
Cochlear expands its Brisbane manufacturing operation
Industry case study: Microtia
Download Human Bionics Fact Sheet